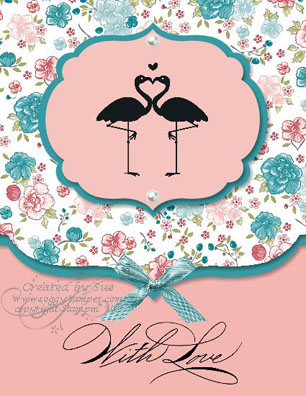 So are you set for Valentine's Day tomorrow? Do you have your valentines all made and mailed out? How about making a quick digital one with My Digital Studio and sending via e-mail? Yes, you could use one of those e-card commercial companies on the internet but one created by you would make it special. If you don't have My Digital Studio yet, you can jump in with the new 30 day free trial period for My Digital Studio Express. It is a downloaded program so you can be creating that last minute Valentine within minutes of ordering it. Get the information and sign up for it here.
This week's design team assignment for Utah Divas International was to create a valentine (of course). I used Twitterpated Designer Series Paper, my favorite Labels Collection punch, Valentine Defined Stamp Brush Set, and Hand Penned Stamp Brush Set to create this valentine. To order any of the products used for this valentine, just click on the item name or visit my online store here.
Supplies:
Stamp Brush Sets: Hand Penned (127612) and Valentine Defined (124026)
Digital Paper: Twitterpated Designer Series Paper -8 from Twitterpated Digital Kit (129332)
Other: Labels Collection – 1 Punch (129336), Baja Breeze Seam Binding Ribbon Bow from Seam Binding II Ribbon Pack (124020), Basic Pearls and Rhinestones (124330)
Thanks for visiting The Soggy Stamper today. Come back tomorrow to see what new exciting downloads Stampin' Up! has for us on Valentine's Day.
Until next time…blessings,
Sue Erickson
sue@soggystamper.com