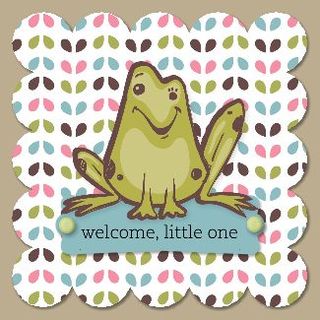 Stamp Brush Set: Nursery Necessities (119097), Hoppy Memories Digital Kit – frog 2 (118466)
Digital Paper: Nursery Designer Series Paper – 5 (124561), Kraft Digital Cardstock
Other: Modern Label and Scallop Square punches from Punch Shapes (118853)
Welcome to The Soggy Stamper spot. Today I want to share with you a baby gift tag made with the Hoppy Memories designer kit. I have had this kit for a long time and am using it for the first time. I didn't realize how cute this frog was! I even have used it on an iron-on transfer for a baby boy's onsie.
For a quick gift tag that doesn't take a lot of time to haul out stamping supplies, turn to your My Digital Studio program. Everything you need is right in your computer and there is no clean up needed afterwards. :o) You don't have My Digital Studio yet? What are you waiting for? Stampin' Up! is now offering a free 30 day trial of My Digital Studio Express. This is a download so you can order the free trial here in my online store and be creating within the hour. Check it out!
Thanks for coming by to visit today. Do stay a while and enjoy a virtual cup of coffee or tea with me. Let's chat via leaving  comments.
Until next time…blessings,
Sue
sue@soggystamper.com