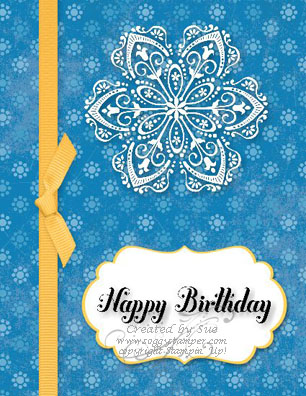 Supplies:
My Digital Studio (118108) or My Digital Studio Express (124483), BlueBerry Crisp Designer Series Paper – 11(123982), Mixed Bunch flower 2 stamp brush from Mixed Bunch Digital Kit (129359), Perfect Label Punch (127340), Daffodil Delight 1/4" grosgrain ribbon (118851), 1/4" ribbon knot in basic colors (118852)
I love Tuesdays because Stampin' Up! usually makes new digital downloads available for purchase for My Digital Studio. Today's offerings are great. I debated about buying the Mixed Bunch Digital Kit and am so happy I ended up getting it. Not only does it have a great 6-piece stamp brush set, an 8" x 8" scrapbook page template and four designer series papers, but it also has the popular Blossom Punch in digital form! Whoohoo!
I love this card I created for a friend's birthday. Since I am always failing to actually do my good intentions, her birthday has passed but it isn't too late to send her a digital card. My Digital Studio makes it so easy to do this and it is fun to boot! I hope you like the card as well.
If you haven't seen the new downloads, here is the link. Go check them out and then order the ones you want. Thanks for coming by to visit today. Do come back soon!
Until next time…blessings,
Sue
sue@soggystamper.com