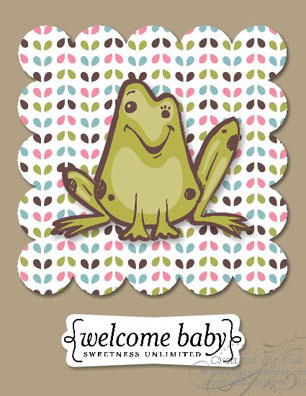 Stamp Brush Set: Sweetness Unlimited (124461), Paper: Hoppy Memories Designer Series Paper from Hoppy Memories Digital Kit and Kraft cardstock
Embellisments: Hoppy Memories Digital Kit – frog 2 (118466), Scallop Square Punch and Modern Label Punch from Punch Shapes (118853)
Welcome to My Digital Craft Corner! Check out the new downloads here on my online storefront. You can then click on the ones that appeal to you to place your order. I am going to be a good girl and not order any of them this week. Instead, I used My Digital Studio to create a quick card to go with the baby gift tag I shared yesterday. I just love the frog from the Hoppy Memories Digital Kit! I even printed it onto a heat transfer paper and applied it to a baby onsie for the baby gift. Come back tomorrow to see those cute onsies.
Until next time…blessings,
Sue Erickson
sue@soggystamper.com