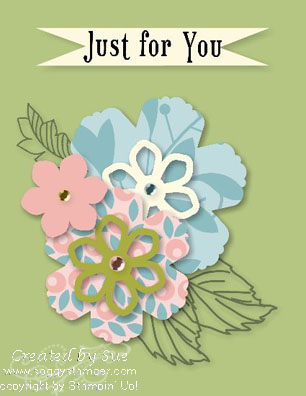 Stamp Brush Sets: Green Tea (125770), Fabulous Florets (retired), Tea Shoppe (129341)
Other: Blossom Builders digital download (129609)
Here in this soggy corner of SE Alaska, it is still Tuesday. Here is a link to the new downloads released today for My Digital Studio. You will find the new downloads displayed on the right-hand side of the page. Click on the individual thumbnails for a complete description, then click again to order it through my online store.
I have been seeing some really neat traditional cards using the Blossom Builders from the Occasions mini catalog and was excited to see that was one of the new downloads. This download even has colored rhinestones. I love the look of this card.
Thanks for coming by to visit. Do take time to browse around my blog and to check out the new digital downloads.
Until next time…blessings,
Sue
sue@soggystamper.com