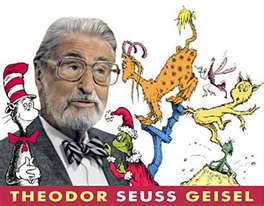 In honor of Dr. Suess's birthday today, I tried my hand at a little Dr. Suess-style poetry. I know it is rather lame but a poet I am not! :o}  So here goes:
Oh the fun you can have
With a stamp in your hand!
Gather some friends to get free stuff
With our generous hostess benefit plan.
I'm just a quick call away, so call today
To schedule your fun-filled workshop day.
What's even better yet
Call to learn how your own business to get!
The poem is in fun, but my message about scheduling a workshop or starting your own business is serious. Sale-a-Bration is over March 31 and you won't be able to earn or even purchase the exclusive
Sale-a-Bration stamps and designer series paper after that. Do call or drop me an email now to schedule a day for your workshop. My available days are limited.
Sale-a-Bration is also a great time to start your own business as an independent Stampin' Up! demonstrator on my team as the demonstrator starter kit is on sale. Email me so we can start a conversation about how owning your own paper-crafting business can benefit you.
Hoping to hear from you soon,
Sue
sue@soggystamper.com