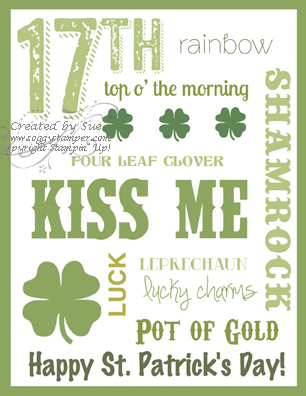 Supplies: My Digital Studio (118108), Lucky Framable Designer Template (129930) Felt Marker font
We had a challenge this week to write a stamping limerick for St. Patrick's Day. This one is for you, my faithful customers and readers.
I am a cool demo named Sue.
I love my great job, it is true!
To teach rubber stamping,
O such delight it does bring
From paper, stamps, ink and some glue.
Have a Lucky St. Patrick's Day!
Until next time…blessings,
Sue
sue@soggystamper.com