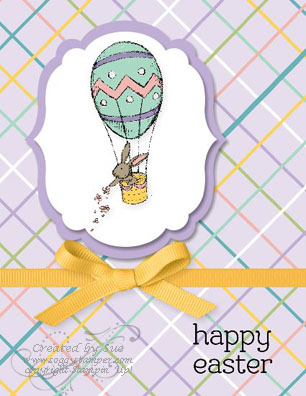 Supplies: My Digital Studio (118108), Everything Easter Ensemble (129363). Labels Collection Punch (129336), Daffodil Delight grosgrain ribbon (118851),
Welcome to My Digital Craft Corner this Thursday. Although the weather outside doesn't look like spring weather, my daffodils are coming up in large numbers and the crocuses are blooming at last! The thing that still surprises me is that Easter is just two weeks away! My how time seems to creep and then when your back is turned, it suddenly flies by. I recently ordered the Everything Easter Ensemble and am having so much fun with it. I didn't buy the Everybunny stamp set because I wouldn't use it more than just for Easter projects. However, the stamp brush set comes with the Everything Easter Ensemble and it will never retire. Oh the beauty of My Digital Studio! If you aren't already using My Digital Studio, then give our 30-day FREE trial of My Digital Studio Express a try. I'm always a keystroke away if you have questions or need help getting started. Click here to enroll in the 30-day trial. You will get the My Digital Studio Express which is a digital download that has all the software needed to run the program plus a few stamp brush sets, digital papers, embellishments, and punches to get you started. You can then purchase additional downloads to expand your creative options. To order the supplies used in this card just click on the item name or visit my online store here. The site is secure when it comes time to enter your credit card information and my store is open 24/7. You can even shop in your jammies! :o)
Thanks for coming by to visit today. If you haven't already signed up for my newsletter, be sure to do so by filling in the form on the top of the sidebar. You will be just in time to receive my April newsletter which is filled with great projects.
Until next time…blessings,
Sue
sue@soggystamper.com