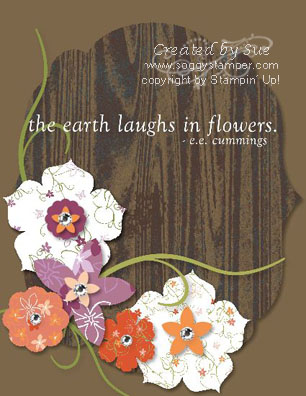 Supplies: My Digital Studio (118108), Sunny Garden Designer Series Paper (124544), Cottage Wall Designer Series Paper (124560), Well Worn Designer Series Paper (124225), Cottage Garden Stamp Brush Set (124559), Fabulous Florets Stamp Brush Set,  5 Petal Flower Punch from Punch Shapes (118853), Fun Flower Shapes (124453), Blossom Bouquet Punch (126037), Basic Pearls and Rhinestones (124330)
Welcome to My Digital Craft Corner and My Digital Studio Monday. Our theme today celebrates Earth Day. I would celebrate Earth Day by planting flowers but the weather here in SE Alaska is not warm enough for flowers yet. :o( Instead, I created this card filled with sunny flowers. Are you doing anything special to celebrate Earth Day? If so, share it with us by leaving a comment.
Thanks for coming by today to visit. Do come back to visit often. Tomorrow I will share something from the new weekly downloads.
Until the next time…blessings,
Sue
sue@soggystamper.com