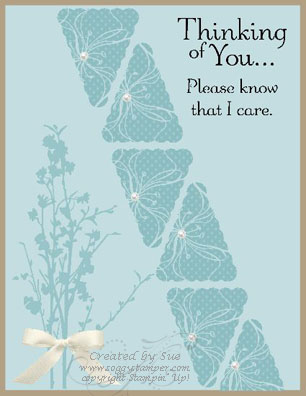 Welcome to My Digital Craft Corner this snowy Monday morning. We don't get a lot of snow here in our part of SE Alaska during the winter but we can count on getting some in March. We can have a brief heavy snowstorm, then clear sunny skies, then rain with the sequence repeated several times during the day. The locals call this 'Fish Egg' weather because the herring come in to lay their eggs during this time and this is typical weather when they arrive.
Our challenge today was to use pastel colors and pennants on our creations. I chose to use the lovely blues of the Green Tea designer series paper and the Green Tea stamp brush set. The punch is the Petite Scallop Pennant punch. I hope you like this card.
Don't forget that you can try out My Digital Studio with our wonderful FREE 30=day trial period for My Digital Studio Express. Within minutes of downloading the program, you can be creating wonderful scrapbook pages and digital or even hybrid cards. The program is easy to use; has the benefit of using exclusive Stampin' Up! images and colors; and most importantly, I am here to help you learn how to use the program. Visit my online store to sign up for your FREE trial. You have nothing to lose and lots of fun to gain!
Supplies:
My Digital Studio (118108), Green Tea Stamp Brush Set (125770), Thoughts and Prayers Stamp Brush Set from the My Digital Studio software CD, Green Tea Designer Series Paper (125769), Petite Scallop Pennant Punch (127352), Basic Pearls and Rhinestones (124330), Very Vanilla Satin Ribbon bow (121063)
To order the supplies used in this card, either click on the links or visit my online store.
Thanks for coming by to visit today. You will want to come back again tomorrow to see what I do with one or two of the new downloads.
Until next time…blessings,
Sue
sue@soggystamper.com