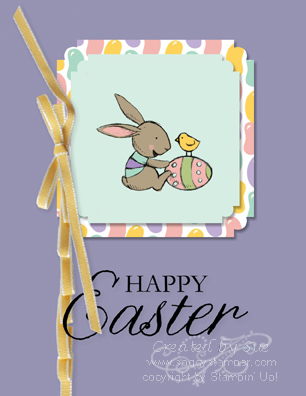 Supplies: My Digital Studio (118108), Everything Easter Ensemble (129363), Get It Done Kit (129924), Taffeta Trimmings (129603), Easter Blossoms Stamp Brush Set (124436)
Welcome to Terrific Tuesday! I especially love two of the new downloads today. First, I am a sucker for punches. Since Get It Done has three punches included in the kit, that was a must have for me. I used one of the punches to highlight the focal image. The second download I purchased is Taffeta Trimmings. After all these years of futzing because my bows don't come out perfect, I am finally validated with my less-than-perfect bows. Stampin' Up! has actually released a digital download of skewed bows! Included in this download is the pleated/looped ribbon look which we have had to work at achieving. Now it is done for us with the taffeta ribbon. Thank you, Stampin' Up! creative staff! I am still having lots of fun with the Everything Easter Ensemble. There are so many creative options available with that download. I hope you don't get bored seeing it in many different forms. At the time of writing this post, Stampin' Up! hasn't updated the new downloads on my online store entry page nor on mydigitalstudio.net so here is a link to the pdf I downloaded this morning. Download MDS_Downloads_-_Mar_20 Check out the other downloads available today. The rest of them are equally great! Jot down the item numbers of the ones you want and then visit my online store here to order them. You can click on the linked item names of the products I used to create the card to be taken directly to those items in my store as well. I do appreciate your business.
Thanks for coming to visit The Soggy Stamper blog on this first official day of Spring. May the weather be in sinc with the calendar where you live.
Until next time…blessings,
Sue
sue@soggystamper.com