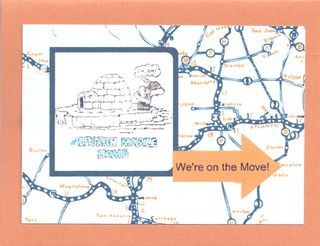 Supplies: My Digital Studio (118108), Travel Journal Designer Series Paper from Travel Journal Designer Kit (121071), Large Arrow Punch included on My Digital Studio software or from Punch Shapes (118853), Photobox – 11 punch from Check This Out Designer Page Templates (129921), Peach Parfait cardstock (119794)
Since we are selling our Alaskan home and putting everything (almost…not all my stamps for sure!) in storage, I decided we needed to get our long-overdue Christmas letter mailed out. We plan to travel in our 5th wheel trailer for about 9 months before we settle down once again. That is why I think this card is so clever and appropriate! I created this very hybrid card to go with the letter. The Alaskan Mobile Home image is from a stamp I bought maybe 15 years ago. I stamped and colored the image with watercolor crayons. Then I scanned it into my computer and inserted into the Photobox – 11 punch. I used a slightly larger punch colored with Night of Navy as a mat. Then I added the rest of the card. Finally, I printed it out and mounted it on Peach Parfait cardstock.
Next Tuesday is May 1st already! My May edition of The Soggy Stamper Newsletter will be published on Tuesday. That means you have only a couple of days to subscrib. The process is easy. Just fill in the form on the right. Then be sure to respond to the e-mail you will receive asking you to opt-in. Do it now so you don't forget and miss out on this wonderful edition. I am really excited about the projects I have for you!
Until next time…blessings,
Sue
sue@soggystamper.com