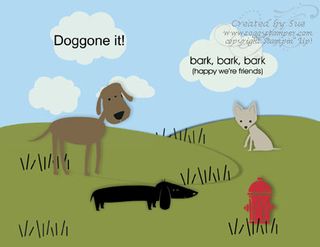 Supplies: My Digital Studio (118108), Man's Best Friend stamp brush set (comes on the My Digital Studio software CD), New Heights Kit digital download (129898), Pumpkin Patch stamp brush set (118122), oval punch from Punch Shapes digital download (118853)
The theme for today for the Utah Divas International design team was to create a humorous card. I lack any really funny stamp brush sets so decided to use the dogs from the Man's Best Friend stamp brush set. If you have been reading my blog for a while, you probably have gathered that we have a couple of mini dachshunds that are our furry babies and I love dogs. They are truly best friends! I used the oval punch for the hills. The clouds are from Man's Best Friend and the New Heights Kit. The grass is from the Pumpkin Patch stamp brush set.
These little dogs always make me smile. I hope they bring a smile to your face too! To order the downloads I used for this card just click on the download name or visit my online store here. I'm open 24/7. If you haven't already taken me up on the 30 FREE trial of My Digital Studio Express, do so today. I have lots of experience to give you the help you need to get you started and to grow in your digital crafting skills.
Until tomorrow…blessings,
Sue
sue@soggystamper.com