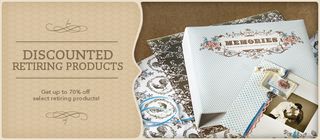 With the new Stampin' Up! catalog coming out a month earlier June 1st, you only have until May 31 to order these items that are being retired. Today the list of retiring accessories and Decor Element items has been released. Some of the items are discounted even as much as 60%! The supply of these items are limited and will likely go quickly so don't procrastinate! Click these links to see the lists and place your orders with me. If you just email me what you want, the item may be out of stock by the time I get your email and can place your order. Your best guarantee of getting what you want it to place your order online here in my online store. The products will be shipped directly to you. Parts of the online store are not secure connections but when you enter your personal information and credit/debit card information, the site is secure so you don't have to worry.
If you do choose to email me your order, be sure to give me three choices for each item in the event your first choice is sold out.
Here are the links. Click on them NOW! I really don't want you to miss out on this great opportunity to pick up especially 12 x 12 paper at a great price.
Retiring Ink, Paper and Accessories

Retiring Definitely Decorative list

Retiring My Digital Studio Content Discs
The digital content discs are even discounted! Click Download 20112012_IBC_MDSCatalog_DVDFlyer to see what is included in these content discs. Unfortunately, the downloads that are part of the Hostess Benefits, still can only be purchased with Hostess Dollars. It is not too late to host a catalog party! Collect orders from your friends totalling $150 and place the order as your online order and you can get the hostess benefits. You must place your order through my online store or your local demonstrator's store to get the benefits though.