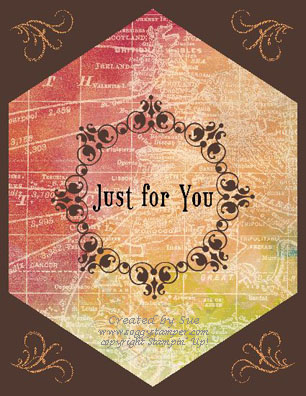 Supplies: My Digital Studio (118108), My Digital Studio Express (124483), or Free 30 day trial of My Digital Studio Express (129600), Fan Fair Collection DVD (127212) available June 1, Hexagon Punch (130924),Autumn Elements flourish (127172)
As a demonstrator, we have the privilege of preordering selected items from upcoming catalogs. I received my preorder this past week and just had to install the Fan Fair Collection DVD to see what all was on the disc. Oh my goodness…I am blown away by the beautiful designer series papers in this collection! The collection also has a punch, embellishments, and a large stamp brush set. This collection is also available in traditional format of stamps and designer series paper. You will definitely want to have this on your want list to purchase when the new catalog is active on June 1. Email me your name and telephone number so I can give you a call and arrange for me to send you a free copy of the new Stampin' Up! catalog.
Although I am in the middle of packing up the house since we have sold our home, I will be posting tomorrow about the new digital downloads. Do come back to visit tomorrow.
Until next time…blessings,
Sue
sue@soggystamper.com