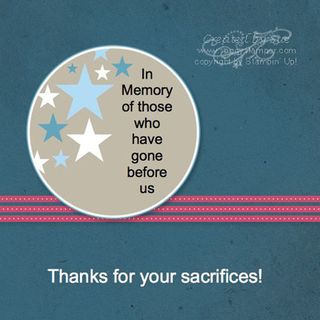 Supplies: My Digital Studio (118108); My Digital Studio Express (124483); or 30-day FREE trial of My Digital Studio (129600); Red, White, and Blue Digital Kit (127163), Vintage Overlay Stamp Brush Set (121061)
Happy Memorial Day. Is 'happy' the right thing to say??? Yes! May you have happy memories of those who gave their lives for our freedom and for those family members who have gone on before us.
The closing on our house is completed, most of our personal belongings are in storage, we are camping out (so to speak) in a small apartment, and school will be out at the end of this week. Now it is time to focus once again on stamping and digital creating. Stay tuned to this channel…err…blog… for continued coverage.
Next Tuesday, the June edition of The Soggy Stamper Newsletter will be published. You won't want to miss this issue so subscribe right now by filling in the box at the right. Then you will receive an e-mail asking you to confirm your subscription. It is necessary for you to complete this step before your subscription will be active.
Tomorrow is Terrific Tuesday with new downloads from Stampin' Up! for My Digital Studio. Please come back to see which downloads I choose to use.
Until next time…blessings,
Sue
sue@soggystamper.com