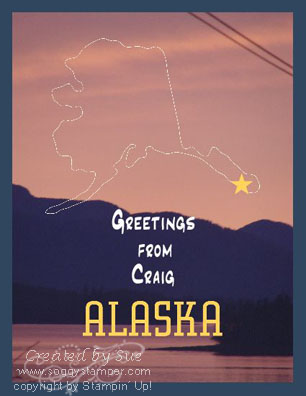 Supplies: My Digital Studio (118108), My Digital Studio Express (124483), or 30-day FREE trial of My Digital Studio Express (129600), Square Punch ( included with software), Fifty Nifty Kit digital download (130059)
Oh, do I like Tuesdays! This is the day that Stampin' Up! releases new digital downloads for My Digital Studio. I always get up in anticipation of seeing what cool things I can download to use in my digital designing. This week did not disappoint me. Since my husband and I are about to embark on an extended RV trip with our two dachshounds, I just HAD to get the Fifty Nifty Kit! When I saw the thumbnail in the PDF of this week's downloads, I was sorry to see that Alaska and Hawaii were not included in the thumbnail but I bought the download anyway. I was not disappointed! The above card shows a sunset I enjoyed from our kitchen window. To see the rest of the new downloads and to order them, click here and you will be taken to my online store. The new downloads are displayed on the right side of the page.
I'd like to remind you that the retiring digital collection DVDs in the 2011-2012 Idea Book and Catalog are retiring and are 60% off! They are still available but don't wait to order them any longer as they may sell out at any time. Visit here to see the content in the DVDs then order them here.
Until next time…blessings,
Sue
sue@soggystamper.com