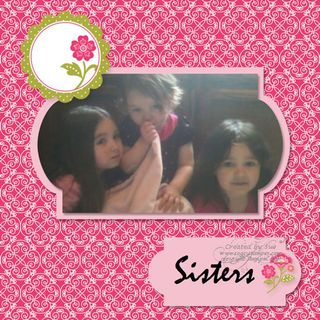 Supplies: My Digital Studio (118108), My Digital Studio Express (124483), 30-day FREE trial of My Digital Studio (129600), Summer Happiness Kit (130076), Merry Medallion Punch from Merry Medallion Photocard Template (127569)
Welcome to Terrific Tuesday in My Digital Craft Corner. This Tuesday the downloads are exceptional…well…most Tuesdays they are I guess. I love thie Summer Happiness kit and it just happens that this particular designer series paper color matches the color of our great-granddaughter's shirt perfectly. I love the softness and the backlight of the photo.The softness is purely accidental. I took it with my cell phone and guess what…the lens was dirty. Two of the sisters live in Germany and were home visiting in Tacoma, Washington. The third is a step-sister who lives with her mom in Anacortes, Washington. It is a very happy time when all three girls can stay together.
To see all the new downloads for My Digital Studio, what the downloads include, and to place your order for them, just click here to enter my online store. The downloads are on the right-hand side of the page.
Thanks for coming to visit today. If you haven't already subscribed to my News from My Digital Craft Corner, do so now so you don't miss the June issue. The subscribe box is in the upper right corner of my blog.
Until next time…blessings,
Sue Erickson
sue@soggystamper.com