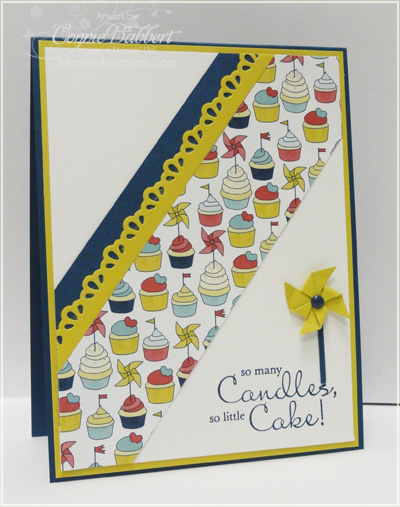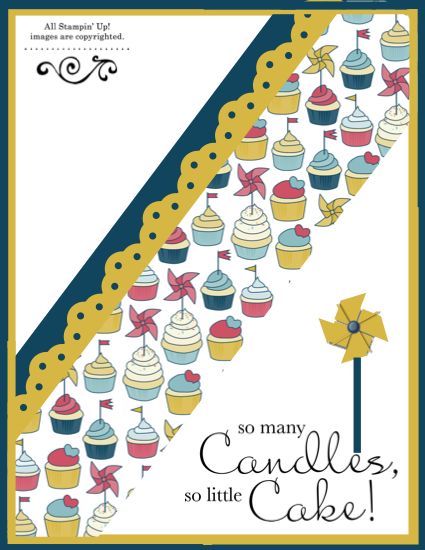 Connie's traditional card                  My digital CASE
I love a challenge so I challenged myself to digitally CASE this cheerful card that Connie Babbert created. It was a lot of fun to do this. I used a lot of resized squares for masking and played with the drop shadows of the squares to create the pinwheel. Did you know that when you turn a punch but want the dsp to stay upright, you just unclick the box that says 'rotate with punch'? That is how I was able to keep the print of the dsp upright when I turned the rectangle punch. I created this digital card for Jane Giggy's birthday. Happy Birthday, Jane.
I used Patio Party Designer Series Paper (127190), Bring on the Cake stamp brush set (124015) and the Eyelet Border Punch (122150) in addition to the square punches to create this card. If you would like to CASE this card as well, just click on the linked names of the supplies to go to my online store to order them. Don't forget to try the 30-day FREE trial of My Digital Studio Express if you don't already have My Digital Studio. Just click here to order it from me. You get the ability to immediately download the program which contains all the essential software to run the program plus a few content files to get you started. You can then order additional downloads of files you would like to use in your designing. Here is the link to that section of my online store. In addition, you get me as your personal instructor, so order it today!
Until next time…blessings,
Sue Erickson
sue@soggystamper.com