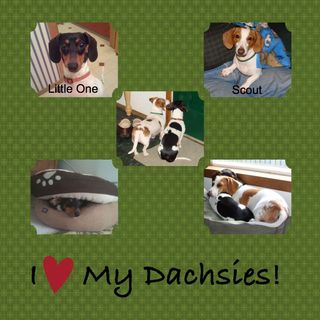 Supplies: My Digital Studio (118108), My Digital Studio Express (124483), or  30-day FREE trial of My Digital Studio Express (129600), Get It Done Punch from Get It Done Kit (129924), Cheap Talk  Stamp Brush Set- Heart (118834), Hip and Handsome Overlays Stamp Brush Set – 5 (125753)
Welcome to The Soggy Stamper. Our theme for today was 'pet love'. What an easy theme for me! I love taking pictures of our dachhunds as they are so entertaining. Even when they are sleeping, they entertain us…LOL! I wanted texture to the gumball green background so I added the Hip and Handsome Overlay. However, I wanted it to be subtle so I changed the color to Gumball Green and all you see it the drop shadow.
Did you notice that June 1st we got a lot of new digital downloads along with the new catalog? I wanted to post about it on Saturday but just didn't quite get it done. Come back on Wednesday to se a card featuring the Postage Due stamp brush set. I was debating on order the traditional version of the stamp set and am happy I now have it in the digital form. Click here to see and order all the new downloads from June 1.
Thanks for coming by to visit today. Come again tomorrow to see what new downloads Stampin' Up! has for us.
Until next time…blessings,
Sue
sue@soggystamper.com