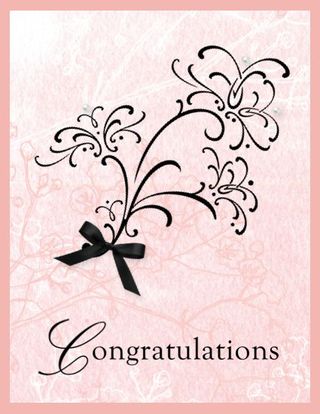 Supplies: My Digital Studio, My Digital Studio Express, or 30-day Free trial of My Digital Studio Express, Wedding Sweet stamp brush set (121431), Spring Shades designer series paper – pattern 4 (120172), black satin ribbon (121063), Basic Pearls and Rhinestones (124330)
Ahhh…June, the month of weddings. I guess it is about time to share a wedding card. I loved the Wedding Sweet traditional stamp and am sorry it has retired but never fear…I still have the stamp brush set in My Digital Studio! Things in My Digital Studio never retire except for content on DVDs that are sold through the regular catalog. What is even better about My Digital Studio is that the designers even bring back retired stamp sets and designer series papers in digital form. Now you can print out those dearly loved images and papers that are no longer available in the traditional stamping form. If you haven't tried My Digital Studio, now is the time to do it. You have nothing to lose with the FREE 30-day trial of My Digital Studio Express. Order it by clicking on the link under my card and you will be able to download it immediately. Then I'll email you to help you get started. I hope you will join me in ddigital stamping fun.
Thanks for coming by to visit today. Do come back tomorrow to see what I do with the new downloads Stampin' Up! releases almost every Tuesday.
Until next time…blessings,
Sue Erickson
sue@soggystamper.com