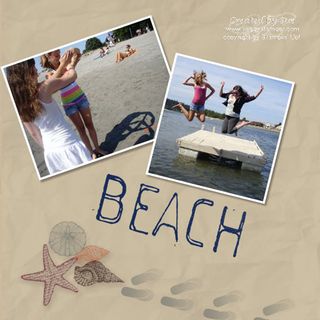 Supplies: My Digital Studio (118108), My Digital Studio Express (124483), or the 30-day Free Trial of My Digital Studio Express (129600), By the Seashore Stamp Brush Set (130856), Boardwalk Stamp Brush Set (129598), Downtown Grunge Designer Series Paper- 4 from Downtown Grunge Photobook Template (126056)
Welcome to My Digital Craft Corner this Tuesday. Yep…Tuesdays are Terrific because we get new downloads to purchase almost every Tuesday. Yes…I am as addicted to collecting digital downloads as I am to buying new stamp sets. The difference is that I have a ways to go before I start having lack of storage space with the digital versions.
As usual, the new downloads are great! Click here to see them and then order the ones you want from my online store. I chose the By the Seashore stamp brush set because it is one the great stamp sets in the new traditional catalog. It has a wonderful collection of shells. The foot prints are from the Boardwalk stamp brush set. I love these pictures of our oldest granddaughter and her friends at the beach. Hope you like the page.
Until next time…blessings,
Sue
sue@soggystamper.com