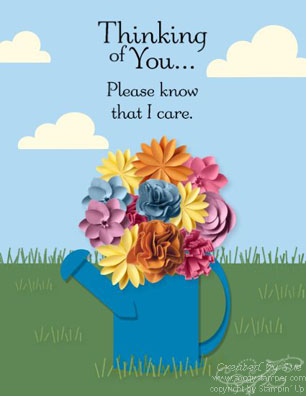 Supplies: My Digital Studio (118108), My Digital Studio Express (124483), or 30-day Free Trial of My Digital Studio Express (129600), Bright Blooms (130876), Cloud Punch (127351), Half Circle Punch (127164), Pumpkin Patch Element 2 (grass) (118122), Thoughts and Prayers stamp brush set (original DVD), oval and square punches from original DVD
Hey, it's Terrific Tuesday at My Digital Craft Corner and Stampin' Up! has offered us some terrific downloads today. You can see them here and order those you want from me all in one stop. :o) The Soft Blossoms digital download was a hugely popular download and Stampin' Up! has followed this week with Bright Blooms.
A faithful follower of this blog, Dorothy Cordes, took Patty Bennett's idea of filling a heart with all the Soft Blossoms and filled a punch art wagon with them. I decided to take that idea further by filling a punch art watering can with these Bright Blooms. I had to do a lot of masking to get the shapes I wanted but am really pleased with the outcome. I hope you enjoy them as much as I did in designing this card.
Thanks for coming by to visit today. BTW…have you tried My Digital Studio yet? If not, what are you waiting for? You can download the 30-day FREE trial right now and start creating to your heart's desire. If you don't like something you have tried, all you have to do is delete it and try again. There is no wasted paper and no scraps to clean up. It is a win – win situation! Just click here to get started and I will be as close as a click to help you if needed.
Until next time…blessings,
Sue
sue@soggystamper.com