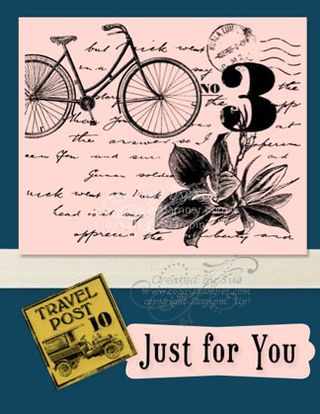 Supplies: My Digital Studio (118108), My Digital Studio Express (124483), or 30-day FREE trial of My Digital Studio Express (129600), Postage Due Stamp Brush Set (127201),Modern Label Punch and Square Punch – included in Punch Shapes (118853) and in the My Digital Studio software programs, Very Vanilla Seam Binding Ribbon (123957)
I was so surprised to see all the new digital downloads released on June 1st. One of the stamp sets I had debated ordering from the catalog is Postage Due. I love the collage stamp and was delighted to see that we have a digital version of it. The Travel Post stamp is not a solid stamp so the edges of the underlying layers show through. I placed a square punch filled with Summer Starfruit behind the stamp and grouped them together before I rotated and placed the stamp. Problem solved! The background is the beautiful new Midnight Muse color.
Thanks for coming by to visit today. I hope you like the card. Please sign my 'guest book' by leaving a comment so I know you visited.
Until next time…blessings,
Sue
sue@soggystamper.com