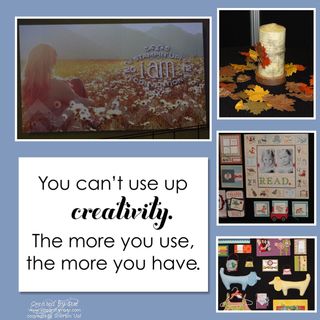 Supplies: MDS2 (download available Aug 1) Color Me Creative stamp brush set (from Color Me Creative Convention DVD)
At the Stampin' Up! convention this past week, I took the 'I Am Digital' optional class Wednesday night. In the process of installing a 30-day trial DVD of MDS2 and the Color Me Creative Convention DVD, I lost access to my regular MDS software. So…I had to use the new MDS2 to create this scrapbook page…oh darn!!! :o) I love the Color Me Creative stamp brush set because of the quotes. The big photo is one of the photos used as wallpaper on the big screens in the main stage room. I love the feelings exhibited in those photos. The smaller photos give you a small glimpse of some of the wonderful projects displayed for our inspiration.
I had a wonderful time at convention and would love to have you come with me next year. How can you do that, you ask? By joining my team of Stampin' Up! business owners. If you have been frustrated by having your work hours set for you or by the struggle of balancing work with family responsibilities, owning your own business may be the answer. The feeling of being your own boss and being able to set your own hours and goals is quite powerful and freeing. Contact me so we can discuss how your needs can be met with a Stampin' Up! business.
Until next time…blessings,
Sue Erickson
sue@soggystamper.com