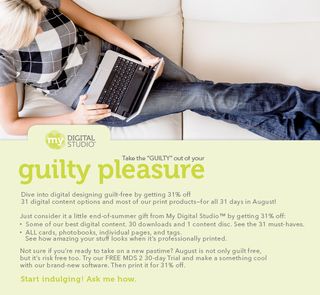 (Click on image for full-size image)
How are you coming with your creations you want to send in for professional printing? I really want you to be able to take advantage of this promotion and see how wonderful your projects look when printed by Stampin' Up!'s professional printer. The inks are calibrated so they are an exact match to the ink in your stamp pads. Why is this important? Because if you want to add embellishments like ribbons or brads to your printed project or mount it on card stock to convert it to a hybrid, you need to have the colors match. Your home printer probably does a good job but there is no guarantee of a perfect match.
Don't forget that selected stamps brush sets and designer kits are also 31% off during August. Time is running out so don't procrastinate longer. Check out this list of downloads and place your order through my online store.
I mentioned in Monday's post that I am working on a video showing some shortcuts I used in creating the card. I am working on the video. I am learning in the process so it is taking time to get the editing right. I am eager to share it as soon as it is ready. Keep tuning in. :o)
Until next time…blessings,
Sue
sue@soggystamper.com