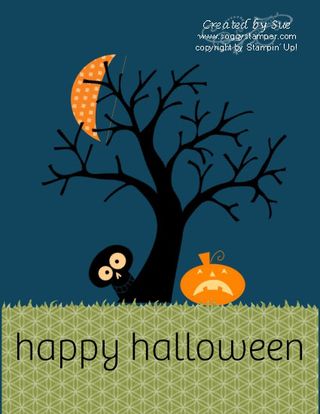 Supplies: MDS2+ (130646), MDS2 (130644), MDS2 upgrade (130650), or 30-day FREE trial of MDS2 (130910),Spooky Bingo Bits stamp brush set (127616), A Little of This stamp brush set from A Little of This Tag Template (127585), half-circle punch (127164) filled with Day in the Life designer series paper -2 from the Day in the Life Digital Kit (128876), grass punch (comes with MDS2+) filled with Cottage Wall designer series paper pattern 9 (124560), Wide Oval Punch and Oval Punch from Punch Shapes (118853)
Well at least it isn't Friday the 13th! Actually there really was nothing freaky about today. I had a really good day but wanted the title to suggest this Halloween card. I used a variety of stamps from the Spooky Bingo Bits and really love that we can now enlarge them without losing the quality of the stamps. I enlarged the tree quite a bit. To get the shape of the moon I used the half-circle and Wide Oval punches. To put light behind the eyes of the jackolantern and thingy, I used ovals filled with color behind the images. I love the grass punch and the ability to fill it with designer series paper.
I hope you enjoy this little card. It took much longer to write up this blog post than it did to create the card. Don't forget to sign up for my newsletter in the box in the upper right-hand corner and go to my facebook page and 'like' me. Thanks so much!
Until next time…blessings,
Sue Erickson
sue@soggystamper.com