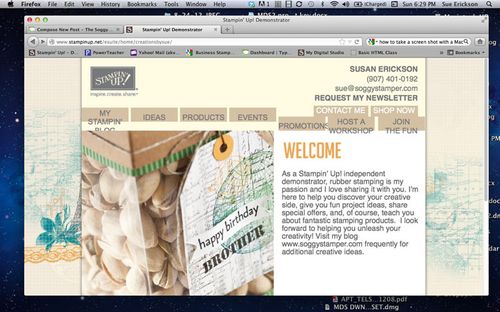 This weekend, a wonderful customer placed a nice order online. However, she didn't get the hostess benefits she was due because she placed the order through www.stampinup.com. To get hostess benefits, you must first go to my website http://creationsbysue.stampinup.net. You will see the front page of my website as the picture shows. Then click on the 'Shop Now' button to access the products and place your order.
Ordering online has several benefits.
You can order whenever you are ready, you don't have to wait for a workshop or come to my house with your order.
You can order in your pjs. If you wake up in the middle of the night thinking about a certain stamp set or punch you want, you can go to your computer and order it.
The order comes directly to you so you don't have to wait for a hostess to deliver it.
You can be your own hostess. Go to my online store as described above and with a qualifying order of $150 or more before shipping and taxes, you get hostess benefits.
I always appreciate your business. If you have questions or prefer to have me order for you, just send me an email.
Until next time…blessings,
Sue
sue@soggystamper.com