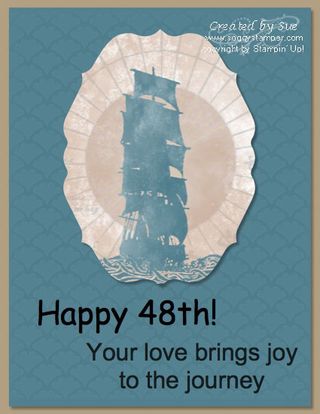 Supplies: MDS2+ (130646), MDS2 (130644), MDS2 upgrade (130650), or 30-day FREE trial of MDS2 (130910), Nautical Expedition Designer Series Paper (124111). Lots of Tags Shape 3 digital punch (124441), Fancy Fan stamp brush set (127348)
Welcome to My Digital Craft Corner this Monday morning. Tomorrow Ron and I will celebrate 48 years of our married journey together I created this card with MDS2 and will print it out to create a hybrid card for him. The journey has had its good times and times of trouble but through it all has been our love and respect for each other. That, along with a strong trust in God, is what makes the journey a joy.
I chose the tall ship image to give the sense of our journey. It is on the Nautical Expedition Designer Series Paper -1. I filled the Lots of Labels – 3 punch with the dsp. Then I shrank the design on the paper and repositioned it so the ship fit. The base of the card is Crumb Cake card stock. I added a square punch stretched to make a rectangle and color-filled it with one of the colors in the dsp using the color picker. To add dimension to the rectangle, I added the Fancy Fan stamp, colored it the same color as the background, and added a black drop-shadow of 100% blur and 25% opacity.
Thanks for coming by today to visit. Tomorrow is Terrific Tuesday so be sure to check back to see what downloads catch my fancy.
Until next time…blessings,
Sue
sue@soggystamper.com