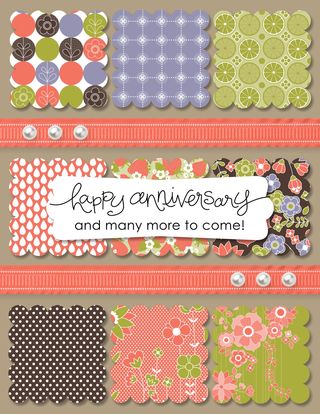 Supplies: MDS2+ (130646), MDS2 (130644), MDS2 upgrade (130650), or 30-day FREE trial of MDS2 (130910), A Word for You stamp brush set (123958), Berry Blossoms Designer Series Paper (123142), Scallop Square Punch and Modern Label Punch from Punch Shapes (118853), 3/8" Ruffled Ribbon (127349), Basic Pearls (124330)
Welcome to My Digital Craft Corner. As I write this blog post I look out my window onto a waterview and a beautiful evening after a beautiful day with sun and temperatures in the high 60s, a rare day in SE Alaska this summer. We have actually have a week of sunshine and everyone is rejoicing. I guess that is why I created this cheery anniversary card for dear friends of ours.
While visiting them this summer, I tried to explain the benefits of using My Digital Studio to create cards and she wondered what I did with them once I had created them on my computer. I usually just print out the card front and then layer it on colored card stock but this time I printed it out as a card on Whisper White card stock. Here are instructions Stampin' Up! gives for doing your own printing Download MDSPrintaLandscapeCard and Download MDSPrintaPortraitCard. I was not able to get my printer to cooperate so I saved the card front and back as jpegs. Then I opened a new 8 1/2" x 11" portrait scrapbook page, used the Design Center to add the card front and card back jpegs, moved them into position with the card front on the right and the card back on the left, and printed it out. I had to trim some white area off because I couldn't set the margins to 0.0". However…remember that during August, you get 31% off any photobook, scrapbook page, card or tag that you send to Stampin' Up!'s professional printer. Hmmm…note to self…get Christmas tags designed and printed out during this sale!
I used several neat tricks to speed up creation of this card which I will share in a video I'll be posting soon on this blog. So stay tuned for good things to come.
Until next time…blessings,
Sue
sue@soggystamper.com