Welcome to the third and final post on convention sample board favorites. If you want to see more, let me know. I have lots more pictures. :o)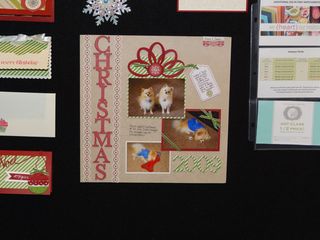 Since I have two doxie pups who are our babies now that the kids are all out of the house, I loved this scrapbook page. See…even if you don't have children to use as subjects for your photos, you can take darling pictures of your pets. Or…you could have a scrapbook featuring favorite views. I actually have a small one that I call 'The View'. The view from our home in Haines, AK, was ever changing and always stunning. I took a lot of pictures and put them in a small photo album.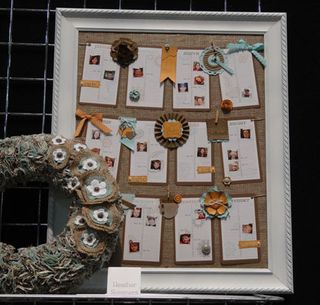 This is a cool way to have a family birthday calendar! It is functional as well as highly decorative. I am sure the calendar pages were created with My Digital Studio. This is part of one of the Artisan contestant winner's displays. Notice also the fabric wreath. I'm guessing the fabric was cut with the Flower Folds die, then folded into fourths and pinned to a styrofoam base. That is a lot of work! However, our Bigz dies can cut 8 layers of fabric at a time so that part of the project would go fairly quickly.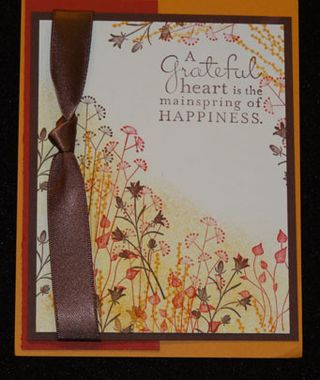 I like this card for the colors used, the greeting, and the sponging done behind the stamped images at the bottom. If bow-tying challenges you, here is a way to use ribbon on your card without having to tie a bow. Just make a overhand knot in the middle of your length of ribbon and tape the ends to the back of the layer.
This is just a smattering of all the samples we saw at convention to boost our creative juices. We also had great classes to help us build our businesses and we got FREE stamps! That is always a good thing.
You could be going to convention with me next year. Stampin' Up! makes it so easy to be a demonstrator. The starter kit is only $99, you get to choose the supplies that come in your kit, and you can choose how you want to run your business. You can work the business a minimal amount of time or you can make it your full-time job having fun sharing your love of stamping. Contact me so we can discuss how joining my team of demonstrators can help meet your needs or click here to learn more about the opportunity. The process of joining is easy and quick and I am here to help you along the way!
Thanks for coming to visit today. Do take time to have a virtual cup of coffee or tea with me (or glass of ice tea if you are still having hot temperatures) while you browse my blog. If you like the work I do and would like to receive exclusive tips and projects, sign up for my newsletter in the upper right-hand corner of this blog.
Until next time…blessings,
Sue Erickson
sue@soggystamper.com