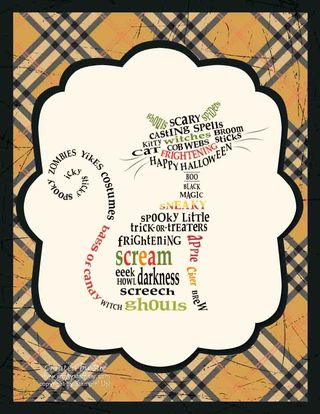 Supplies: MDS2+ (130646), MDS2 (130644), MDS2 upgrade (130650), or 30-day FREE trial of MDS2 (130910), Frightening Feline stamp brush set (131229), Vintage Overlays stamp brush set – 6 (121061), Howlstooth and Scaringbone designer series paper – 7 digital download (129827)(came with MDS2+, or on Haunts and Harvest Digital Collection Disc 129835) , Lots of Tags  – shape 4 punch (124442)
It is another Terrific Tuesday here in The Soggy Stamper part of SE Alaska! Not only is it a beautiful sunny day after almost a week of cloudy, rainy,and damp weather but we also have some wonderful digital downloads for My Digital Studio. When I saw the cute Frightening Feline stamp in the Holiday mini catalog, I thought it would be wonderful to have it as a stamp brush set in My Digital Studio so it could be sized big enough to make framed art for Halloween. Guess what…it is one of the new downloads today. Yay!
Here is the framed art I created. One of the wonderful things about MDS2 is that you can color portions of stamps now. I had a lot of fun coloring some of the words in this cat. You can even color parts to be ombre color as I did with the word 'sneaky' on the cat's shoulders. It helps to enlarge your image while you are doing the coloring and if you accidentally color onto a different part of the image, all you have to do is click on the undo button.
I love the shape of this Lots of Tags shape 4 punch. It is one of the items I got when I downloaded MDS2+. The Howlstooth and Scaringbone designer series paper also came with MDS2+. Now, I must admit that I have purchased lots of downloads since MDS first came out, but even so, I purchased the full MDS2+. Many of the stamp brush sets I already had downloaded are now svg files so they were also upgraded. (Having the stamp brush set be a svg file means you can enlarge it without distortion as I did with the cat.)
Finally I added the Vintage Overlays stamp brush set to the designer series paper to give it an aged look and to give the suggestion of spider webs.
For those of you who prefer traditional stamping with stamps, paper, and ink; this would make a great Halloween card or small piece of framed art. Frightening Feline is a single wood-mount stamp (128105) and you can order the Howlstooth and Scaringbone designer series paper here. Unfortunately, the Lots of Tags shape 4 is a My Digital Studio exclusive punch but you could use one of the Big Shot dies or framelits to achieve the same effect.
I hope you like this project. I am not much of a Halloween person but I am going to print out this one and hang it on my wall. Be sure to click on the item names under supplies if you don't have any of the supplies I used to create this wall art.
Until next time…blessings,
Sue Erickson
sue@soggystamper.com