Supplies: MDS2+ (130646), MDS2 (130644), MDS2 upgrade (130650), or 30-day FREE trial of MDS2 (130910), From My Heart Stamp Brush Set (131234), Torn Edges Stamp Brush Set (118846), Downtown Grunge Designer Series Paper from the Downtown Grunge Photobook Template (126056)
Welcome to Terrific Tuesday. Why Terrific Tuesday, you ask? Because on Tuesdays, Stampin' Up! releases terrific new downloads for our shopping and creative pleasures! Today is no exception. I must admit I purchased three of the downloads and am considering purchasing another one.
The one that particularly excites me today is From My Heart stamp brush set. I bought the clear mount set just for the saying "They say this too shall pass". I was hoping this would be released in digital form and today is the day! Here is the stamp brush set: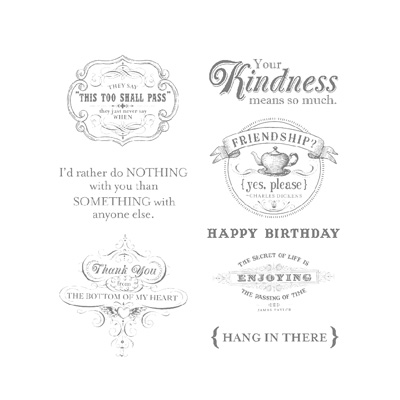 I created this frameable wall art for both myself and our daughter. I don't know how many times I have said "this too shall pass" to her and how many times I am sure she thought "yeah…when?" I used both the coloring tool and the freeform color brush to color in the image. I added the Torn Edges borders around the outside as a frame and colored them Gumball Green. To see the rest of the new downloads and place an order, click here. After checking them out, leave a comment as to which is your favorite.
Thanks for coming by to visit today. I appreciate your visits and hope you like what you see. Please enjoy a virtual cup of coffee or tea and browse my other posts.
Until next time…blessings,
Sue
sue@soggystamper.com