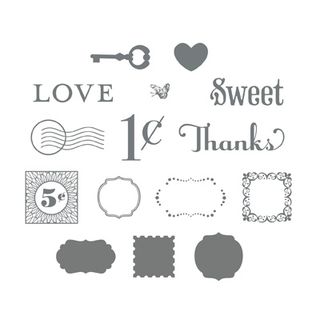 Lovely Little Labels Kit (131231)
We have another terrific Tuesday download. You can see them here and order any you want. I haven't order any today, I'm still thinking on it. However, I did order the Lovely Little Labels Kit last week and haven't shown you a creation using it yet. My business coach is always telling us that we shouldn't buy new product until we have shown the product we already have so I am right on target this time. However…my creative muse has fled the house so I don't have a project to share today.
My husband's sister is critically ill and has been given up to two weeks to live so we are on our way to Denver to see her. I will do my best to keep up my blog posts while we are traveling.
It is also our 48th anniversary and we have done something very unique. We toasted each other for 48 years together with champagne at 30,000 ft! In the course of discussion with the flight attendent in the first class section of the plane, it came up that we were celebrating our anniversary and he gave us complimentary glasses of champagne.
Thanks for coming to visit today. Check back throughout the week to see how well I do with posting daily.
Until next time…blessings,
Sue
sue@soggystamper.com