In yesterday's post, I showed you this stamp brush set from the Lovely Little Labels Kit but said that my muse had left the house.


My muse returned on the flight between Seattle and Denver. What a great way to spend 2 1/2 hours captivity…playing with MDS2! It must have been the 30,000 ft altitude because the muse came up with this quirky anniversary card for my husband.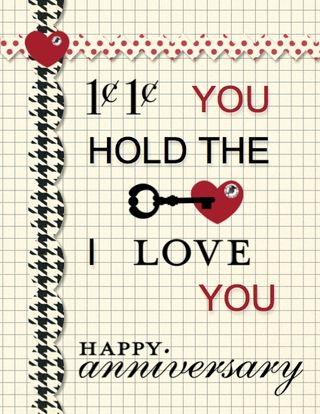 Supplies: MDS2+ (130646), MDS2 (130644), MDS2 upgrade (130650), or 30-day FREE trial of MDS2 (130910), Lovely Little Labels Kit (131231), Love Letter Designer Series Paper patterns 3, 4, and 8 (124102), Calendar Basics Digital Kit (118120), Tasteful Trim Shape 2 punch (123997), Tasteful Trim Shape 3 (123998)
In case you can't make sense of the saying, it says "since (cents) you hold the key to my heart, I love you."  Ron got a chuckle out of the card. I was sitting on the plane in the row behind him and I passed my computer up for him to see it.
Have you given MDS2 and digital card-making and scrapbooking a try yet? It has several advantages over traditional stamping:
Once you have purchased the software, the downloads are relatively inexpensive and do not ever retire.
There is no getting supplies out and cleaning up the mess afterwards.
Space for crafting and storing stamps, papers, embellishments, and punches is no larger than your computer's footprint so you can create in a small area.
If your computer is portable, you can create on vacation, in a plane, out camping without hauling along supplies.
With MDS2, stamp sets are resizable both smaller and bigger to fit your creative purposes.
Printing at home can be done but sending your creations out by email to Stampin' Up!'s professional printer is easy and you get professional binding for calendars and photobooks. AND until Sept. 14, printing of photobooks, scrapbook pages, cards, and tags is 31% off. There are 31 digital downloads that also are 31% off. Click here to see the list and place your order.
To give MDS2 a Free 30-day trial click here and begin the adventure. I am available by email 24/7 to help you along the way. I look forward to sharing this great adventure in creativity with you.
Until next time…blessings,
Sue
sue@soggystamper.com