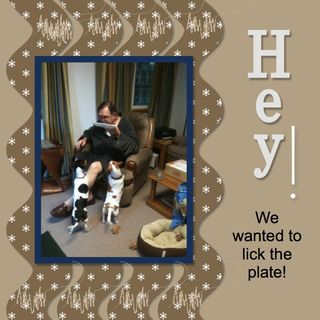 Supplies: MDS2+ (130646), MDS2 (130644), MDS2 upgrade (130650), or 30-day FREE trial of MDS2 (130910), Sweet Shoppe Alphabet stamp brush set (122160), Christmas Cocoa II Designer Series Paper – 12 from Christmas Cocoa II Designer Kit (120880), Tasteful Trim Shape 1 punch (123996), Timeless Type Junior Punch (127168), Mis-stitched embellishment (came with MDS2+)
Yep…today has gone to the dogs! It is National Dog Day here in the United States. I, of course, have two furry kids who don't exactly know they are dogs. Little One and Scout have taken the place in our home of our children who have grown up and moved out. I love this picture of our two pups begging for their share of Ron's dinner. Sorry, Ron, that a little more leg shows than you would want. We share our home with two mini dachshunds. Do you have dogs? If so, share in a comment who they are and what breed.
Thanks for coming to visit today. I am doing my best to post every day so come back and check what I have for you each day. As always, to order any supplies you need to create this project yourself, just click on the names in the supply list or visit my online store.
Until next time…blessings,
Sue
sue@soggystamper.com