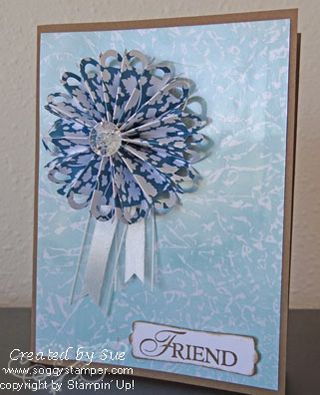 Supplies: Designer Rosette Bigz XL die (125594), Big Shot Die-Cut Machine (113439), Twitterpated Designer Series Paper (125406), Glossy White card stock (102599), Modern Label Punch (119849), Affection Collection Stamp Set (w-127946, c-127949), Soft  Suede card stock (115318), Whisper White 5/8" organza ribbon (114319), Vintage Faceted Designer Buttons (127555), wax paper, iron, ironing board or pad
If you had been to Dina Merchant's workshop last Sunday, you would have had so much fun. Conversation was so lively that we could hardly concentrate on stamping but…we did get two cards made.
I was featuring a couple of resist techniques, the use of a brayer, and the Designer Rosette die. The background of this card is the wax-paper resist technique.
To do this technique, crumple a piece of wax paper that is slightly larger than your card stock. Smooth it out slightly and place it between two pieces of glossy card stock with the glossy sides facing each other. Put paper on both sides of the card stock to protect your iron and ironing board, then press on dry heat for about 5 sec. Check to see if all parts of your card stock got a pattern on it. If not, you can iron them a little longer but not too long or the wax will be absorbed into the card stock. Use a brayer to apply ink all over the piece of card stock. Buff off the ink on the waxed crinkles with a soft tissue, then use the card stock as desired.  Of the two cards we made, this was the favorite. Come back tomorrow to see the other card using the heat embossed resist technique.
Until next time…blessings,
Sue Erickson
sue@soggystamper.com