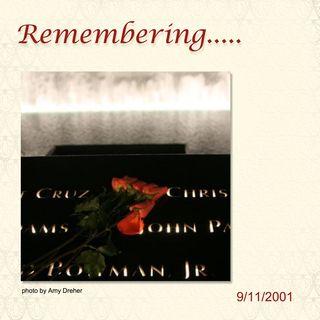 Where were you when you first heard about the attack on the Twin Towers? I'm sure you remember vividly. The most unceivable thing had just happened and we were all stunned and shocked! Eleven years have gone by and the memories begin to fade. On this memorial the names of the people who died that day and in the days after are cut out of the metal surrounding these pools. You can see the waterfalls through the letters and at night the lights shine up through the names.
Today, let's take some time to remember all those ordinary people going about their ordinary day whose deaths have left a great hole in the fabric of our society. Let's take time to give thanks to all the self-less rescuers who gave their lives or are now dealing with health issues resulting from their efforts.
I used the following supplies to create this scrapbook page: MDS2+ (130646), MDS2 (130644), MDS2 upgrade (130650), or 30-day FREE trial of MDS2 (130910); Vintage Overlay Stamp Brush Set – texture 12 (121061). I got the photo from the 9/11 Memorial web page and used Lucinda Calligraphy and Arial fonts for the text. I was surprised how subtle the Vintage Overlay was. Maybe it is because I usually use it on cards and shrink it down more to fit.
Today is also Terrific Tuesday and we get new MDS2 downloads for our creating pleasure. Click here to see them.
Thanks for coming to visit my blog today. I am going to post daily so keep checking to see what I have for you.
Until next time…blessings,
Sue
sue@mydigitalstudio.com