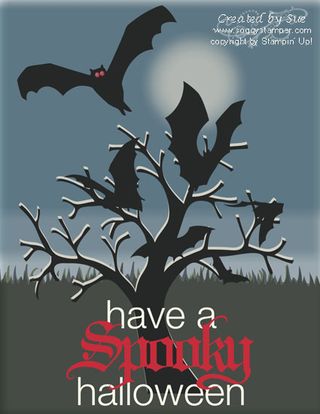 Supplies: MDS2+ (130646), MDS2 (130644), MDS2 upgrade (130650), or 30-day FREE trial of MDS2 (130910); Wicked Fun Designer Kit (127609), Spook Central Ensemble (127589)
Welcome to Terrific Tuesday here in My Digital Craft Corner. The new downloads can be seen here on the right hand side of the screen. I love using the taffeta ribbon on my traditional cards because it ties into such beautiful bows. I am happy that Timeless Taffeta Trimmings is one of the new downloads. For less than the cost of a roll of taffeta ribbon, you get the digital version of 11 colors of ribbon plus three different ties of each, 50 embellishments in all. And…you don't have to fuss with the bow. It is done perfectly for you each time you use the embellishment. :o)
I did order that download today, but I was in a Halloween card mood so I downloaded a couple of older Halloween downloads, Wicked Fun Designer Kit for the bats and the greeting, and Spooks Central Designer Ensemble for the tree. The grass is the grass punch. To get a really dark green, I copied the punch and filled one with Always Artichoke color and the other with Basic Black with an opacity of 65%. Then I layered them. The moon and the background are a series of punches where I used just the drop shadows. To get the greeting, I cropped the 'have a' and 'halloween' from the 'have a wicked halloween' stamp and then added 'spooky' in between the two lines. I love the new feature in MDS2 that allows us to crop stamps and embellishments now.
Here are the indexes of the two kits I used:
Spook Central                          Wicked Fun
To order either of these digital kits, just click on their name in the supplies list or visit my demonstrator online store here. Thanks for coming to visit. I'll see you tomorrow?
Until next time…blessings,
Sue
sue@soggystamper.com