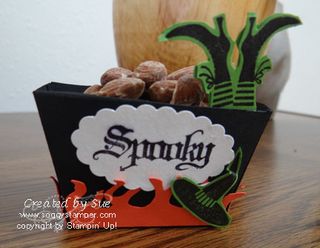 Halloween samples are coming to The Soggy Stamper at last. Can you guess what die I used to die cut this treat cup? No? Well…it is the Petite Purse die. Yep! I cut the rounded top of the sides and glued the purse flap to the inside of the purse. Then I cut the bottom in half and folded the flaps in. I hand cut the flames from Tangerine Tango card stock. It cracks me up that the witch fell into her own brew. Maybe it actually is really delicious instead of gross!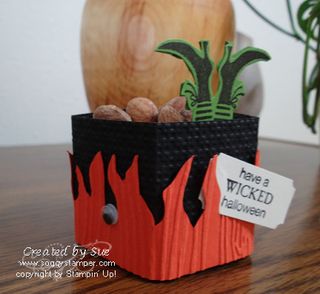 Now this treat cup was made from the mini milk carton die. I cut two of them out but only used five sides. I also cut off the top. For texture on the cauldron, I ran the card stock through the Big Shot with the square trellis embossing folder. I cut a long strip of Tangerine Tango card stock and ran it through the Big Shot with the Woodgrain embossing folder so the grain ran perpendicular to the length of the strip. I hand cut the flames, then wrapped the strip around the base of the treat cup. Again I have the witch's feet from the Wicked Cool stamp set poking out of the treat cup. I had placed the glue dots holding the  Tangerine Tango strip on too high and one of them showed above the flame. I covered it with a googly eye. That one-eyed spook can withstand the heat…LOL! We are going to make one of these treat cups at the September stamping get  together here in Craig. If you want in on this, contact me by email or give me a call so I am sure to have the materials cut for you.
Supplies: Stamp Set – Wicked Cool (w-118738, c-120600); card stock- Tangerine Tango, Basic Black, Gumball Green; Ink-Basic Black; other-Big Shot Die-Cutting Machine (113439), Woodgrain embossing folder (127821, Square Lattice embossing folder (119976), Mini Milk Carton Bigz die (117310), Petite Purse Bigz L Die (125606)
If you need any of the supplies used so you can make your own treat cups, either click on the links or visit my demonstrator online store.
Until next time…blessings,
Sue
sue@soggystamper.com