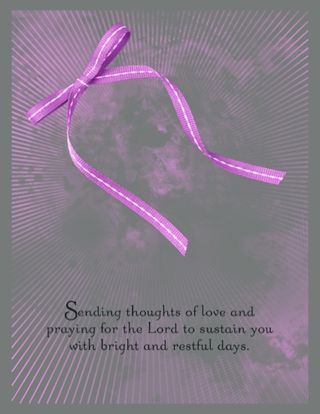 Supplies: MDS2+ (130646), MDS2 (130644), MDS2 upgrade (130650), or 30-day FREE trial of MDS2 (130910); Decorative Overlays stamp brush set – starburst (129880), Knots and Ties (131211), Thoughts and Prayers stamp brush set (comes with software program)
Welcome! Yesterday I posted a scrapbook page using the Decorative Overlays as a background for my photos. I was intrigued by the starburst overlay as it reminds me of sun breaking through a layer of clouds. I tried to get that brilliant, dazzling color for the stamp brush but just couldn't achieve the look I wanted. So I chose to use Pixie Pink which I often see in sunrises or sunsets. This overlay has such an appeal to me that I didn't want to clutter it up so I added just a sentiment and a bow. I recolored the bow with Pixie Pink trying all the colors that the Knots and Ties come with as the starting point. Surprisingly, the Pacific Point bow was the one that actually gave me the Pixie Pink color. The rest of them were too light and only the shadowed areas turned decidedly pink. Lesson learned…when using the recoloring function of MDS2, keep trying options until you get as near the result you want as possible! Oh, yes, I tried several different card stock colors for the background and found that Basic Grey gave the best effect.
Have you tried MDS2 yet? If not, what are you waiting for???? Order the 30-day Free Trial of MDS2 and start playing. I am here to help you and I know once you get started, you will be hooked and will want to order the full program. The benefits of digital crafting are
No mess to get out or clean up
Photos are already on your computer so you don't have to print them out first
If you change your mind about a project, you just delete what you have added and add something else….no wasted paper or ink
You have accessibility to stamp supplies that are almost limitless without it taking up more space than the footprint of your computer
You have printing options. Either print your projects out yourself at home or send them to Stampin' Up!'s professional printer. The professional printer calibrates their inks to be exactly the same RGB values as Stampin' Up!'s ink pads.
You can easily be creating beautiful scrapbook pages and cards while traveling and not have to carry along supplies.
Click on the links under the picture or visit my demonstrator online store by clicking here and place your order You will be happy you did.
Until next time…blessings,
Sue
sue@soggystamper.com