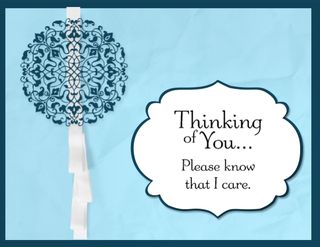 Supplies: MDS2+ (130646), MDS2 (130644), MDS2 upgrade (130650), or 30-day FREE trial of MDS2 (130910); Background Card Stock/Midnight Muse; Embellishments Timeless Taffeta Trimmings – ruffle bow whisper white (131329); Stamps Vintage Overlays – texture 1(121061), Artistic Etching – large flourish (124013),Thoughts & Prayers – thinking of you (comes with the software); Punches Convention 2012 – curvy frame from Convention 2012 Photobook Template (130971); Downtown Grunge Designer Kit, designer series paper – 4 (126056)
I love the wrinkled designer series paper from the Downtown Grunge Designer Kit but have wished it came in other colors besides Crumb Cake. Now thanks to MDS2, I can recolor that dsp to my heart's content. Today I gave it a Pacific Point color. Since recoloring has to deal with the original color of the dsp, the outcome will not be exactly the same as a card stock color, but I am very happy with the color I got. I also used the new Timeless Taffeta Trimmings download as an embellishment. Since the file was created for a 12 x 12 scrapbook page, I used a new feature of MDS2 to crop off the ends of the ribbon, a great new feature! The effect of the Vintage Overlay stamp is very subtle as I reduced the opacity to about 15%. I just wanted a hint of "dirt" around the upper left-hand corner rather than heavy stippling.
I hope you like this card and that it inspires you to play with the cropping and recoloring tools of the new MDS2 software. If you haven't made the plunge yet in ordering MDS2, how about dappling your toes in it by ordering the 30-day Free Trial? Just click here to order it and get started. I am always here to help you and there is a wealth of information on www.mydigitalstudio.net.
Until next time…blessings,
Sue
sue@soggystamper.com