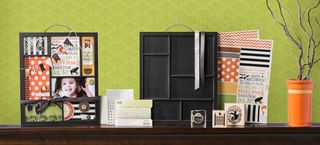 Have you started making your Christmas gift list yet? Worried that you have too many gifts and not enough money? Then I have the solution for you. Start your own paper crafting business by joining my team of Stampin' Up! demonstrators. The process is easy and you can begin earning that extra money by holding stamping workshops and classes right away. Here are some answers to questions you may have:
I work a day job, how can this work given family responsibilities as well?

  You set your own schedule. You determine how many hours a week you can give to your business and schedule that time around your work and family responsibilities.

How much money can I earn?

  You get an instant income of 20% of the total amount of product sold plus you can earn money based on your monthly volume and volume of any people you recruit under you. You also can earn money by holding classes with a fee for the class.

But I'm not that crafty. I can't even draw a good stick figure!

  You know, that is why I love rubber stamping and this business. I can't draw either. Stampin' Up! offers a wealth of creative ideas and instruction. I am always happy to help you too and love sharing creative ideas with my customers and recruits. When you join Stampin' Up! as a demonstrator, you join a supportive family that graciously shares ideas and skills.

So…how much do I have to pay to get started with my own business?   The good news is that this wonderful opportunity is yours for just $99! Sign up by Sept. 16th and you also receive the Halloween printer's tray project pictured above for FREE!
What do I have to do to join? It is so easy, just go to my Stampin' Up! business website by clicking here. You will find more information about being a demonstrator there. Then click on the 'Join now' button. You will need to have your credit card handy as well as your social security number. If you have further questions, give me a call at 907-401-0192 or email me.
Don't wait. Do it now! Click here!
Hope to get to know you as part of my team,
Sue Erickson
sue@soggystamper.com