Here are two more Christmas cards from the Holiday Mini Swap.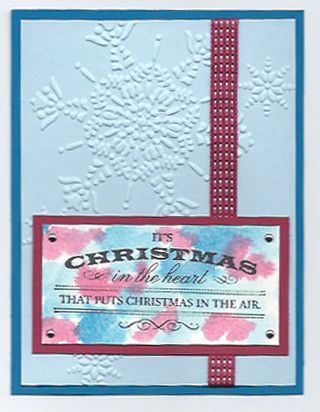 This first card is by Barb Furlong. She used a unique technique for the background of her greeting. First she misted watercolor paper (122959) with water or used an aqua painter (103954)to wet the paper. Then she used a brush or the aqua painter again to pick up color from a Rose Red and a Pacific Point ink pad and touched the brush to the wet watercolor paper. After the background dried, she stamped the Heart of Christmas (128129) single stamp. Since she used Stazon ink, she might have stamped the image first and then added the color to the background. The Bashful Blue layer was run through the Big Shot (113439) using the Northern Flurry embossing folder (120902). Satin Stitched Raspberry Ripple ribbon and four small sliver brads finish the card. By the way…Stampin' Up! is having a 'Back to Spool' promotion this month. For every $40 you spend you can choose a spool of the Stitched Satin ribbon for FREE! That $40 is before shipping and taxes.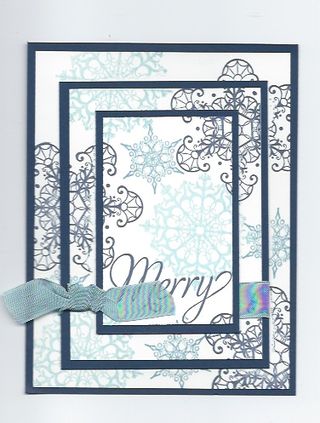 Sticking with the snowflake idea, Deb Andrews used the Snowflake Soiree stamp set (c-127925, w-127922) to create this beautiful card. The technique on this card has been called several things but Triple Layer comes to my mind right now. You cut three pieces of card stock to different sizes. Then you place them on top of each other and do your stamping as if they were just one layer. Then you layer each piece on slightly larger contrasting card stock. Finally you adhere each piece together matching up the stamped images. Deb used Night of Navy, Baja Breeze, and Marina Mist inks and finished the card off with Baja Breeze Seam Binding (122331). I love this card as I am particularly partial to blue and I like the lacy snowflakes. Hmm…might have to order this set for myself! 😛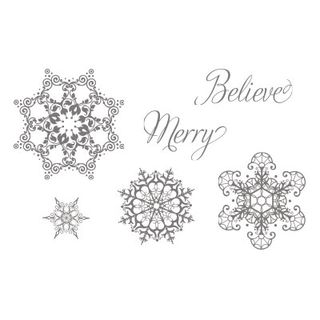 I hope these cards have inspired you to begin making your own Christmas cards. Just think how great you will feel to have your cards all made and addressed and ready to mail the first of December. Just think of the great feeling your family and friends will have when they receive a hand-stamped card from you. When my teenaged grandson told me he saved all the cards I sent him, it sure gave me a warm feeling.
Until next time…blessings,
Sue