Are you tired of seeing Christmas cards yet? Here are the last three cards I received in the SUDSOL Holiday mini card swap. I hope you have enjoyed seeing them all.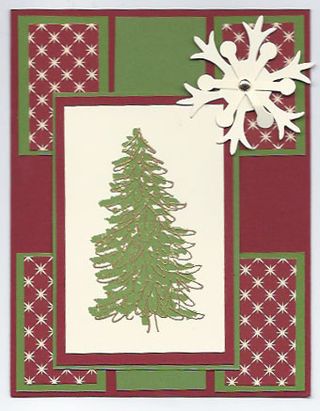 This card by Michelle Bentrum has two features that I love. First, the Evergreen stamp set (c-127973, w-127970) has been calling my name ever since the new Holiday mini came out. I love the squiggly-lined stamp to stamp over the tree. Michelle embossed this stamp with gold embossing powder.
The second thing I absolutely adore is the Bigz Snow Flurry Die (127813). Last year we had a long Sizzlit strip with snowflakes that were just beautiful. I sweat blood and tears trying to cut snowflakes out of our glimmer paper with the die to no avail. This die is a steel die and it cuts the glimmer paper like butter! Yay! Maybe now I will get last year's Christmas cards actually made and sent. The dsp Michelle used is Be of Good Cheer (126896).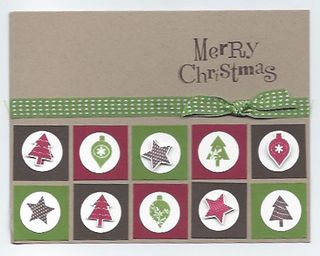 This cute card was made by Janette Espinosa. She used the Merry Mins punch pack (126882), the 1" square punch (124094), and the 3/4" circle punch (119873). The stamp sets were Merry Minis (c-127919. w-127916) and the hosetess set, Whacky Wishes (c-126412, w-126410. I love it when there is a coordinating punch for a stamp set like the Merry Minis. It cuts down on the time it takes to make a card, especially when you are making a bunch for Christmas.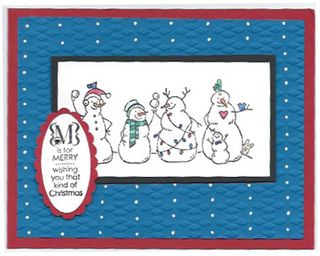 I like the cheery snowmen of the Frosty Friends stamp (129117) that Angie Brailsford used to create this card. The greeting is from the Occasions Alphabet (w-117090, c-123598). Have you purchased it yet? There is a greeting for 26 different occasions. One stamp on a punched piece of card stock says it all. You can find this alpahbet on pg.145 of the Annual catalog. You really should go check it out. Angie used the Argyle embossing folder (127750) for the background and added the white dots with the White Gel Pen (105021).
Thanks for coming by to visit today. I appreciate your visiting. If you like the work you see here, would you sign up for my The Soggy Stamper Newsletter? The subscribe box in to the right on this blog. I am offering the 12 Weeks of Christmas free class to my newsletter subscribers beginning the first week of October. Each Wednesday I will email you an exclusive Christmas project. Be sure you are one of my subscribers so you don't miss any of the projects.
Until next time…blessings,
Sue
sue@soggystamper.com