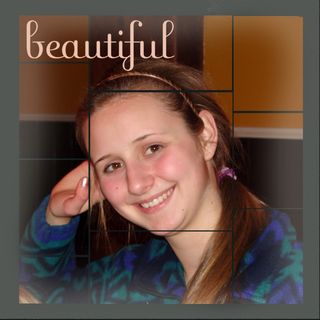 Supplies: MDS2+ (130646), MDS2 (130644), MDS2 upgrade (130650), or 30-day FREE trial of MDS2 (130910); Vintage Overlay Stamp Brush Set (121061), Fabulous Phrases stamp brush set (124586)
Over on www.mydigitalstudio.net, Cindy Shuster posted a scrapbook page where she took the 10+ challenge theme and grouped the 10 frames to add one photo over all the frames. What a cool technique! For this page, I started with a photo only template. I wanted my granddaughter's face to be in one photo frame so I moved the pre-designed frames around, resized one and added two more so I had a center frame. Then I selected all the frames and grouped them. Finally I dragged her photo onto the group. I added a black background to simulate looking through a wrought iron window. I then added the Vintage Overlay – 1 with the color changed to Very Vanilla to simulate frost on the window. I used the color picker to get the color of the title. That is all the embelishment I added as I don't want to take away from the beautiful girl's picture. This was on her 17th birthday. I challenge you to use this feature of MDS2 to add a photo to your page, then share your page with me by email. I'll post it here with you as a guest artist.
Here are the directions again:
Place as many photo frames on your page as desired. Position and size them to their final position, then select all of them and group them.
Find your photo and drag it onto the grouped photo frames. Like magic, the photo will fill the frames.
Yes, it is that easy! Unfortunately you can't resize the photo so if you find you need to resize anything, you will need to ungroup the photo frames.
Until tomorrow…blessings,
Sue
sue@soggystamper.com