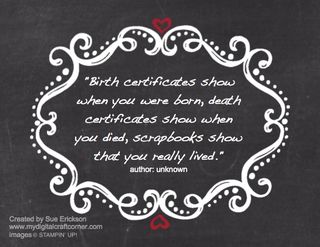 Supplies: MDS2+ (130646), MDS2 (130644), MDS2 upgrade (130650), or 30-day FREE trial of MDS2 (130910); background – Designer Kits/Convention 2012 – designer series paper/Convention 2012 – 7 (130971); stamps – Designer Kits/Convention 2012 – detailed frame and Creatively Yours (130163)
Welcome! Before we sold our house and packed up most of my stamp room, there was a quote hanging on my bulletin board that said the memories of a generation only last during the next generation…or something like that. To me this is a most compelling reason to scrapbook our photos and memories.
I have lots of photos that were handed down to my mother but have not even names on them. I have no idea who they are much less what was significant about their lives. My mother did a little better because she put names and dates on the photos she took. That still leaves me wondering what their lives were like. I have memories of my mother and father and have heard stories about their parents and their lives but how will my children and grandchildren know about their lives if I don't tell them? A scrapbook with meaningful journaling will give even my great-grandkids a glimpse of our family heritage long after I am but a memory myself.
I did an internet search hoping to find that quote to no avail. However, I did find some that I would like to pass on to you:
"Birth certificates show when you were born, death certificates show when you died, scrapbooks show that you really lived."   Author: Unknown
"Just as pieces stitched together in a quilt warm our bodies, scrapbooks bind together memories to warm our hearts."   Author: Unknown
"Much unhappiness results from our inability to remember the nice things that happen to us."   Author: W. N. Rieger 
My grandmother made me a scrapbook because I was once too young to remember; I am making scrapbooks for my family because one day I may be too old to remember.    Author: Unknown
I hope you enjoy these quotes and that they encourage you to carry on with your scrapbooking and are diligent in journaling along with the pictures.
I used the Convention 2012 digital template kit to create the wall art above. While the kit was designed for demonstrators to quickly drop in pictures from convention, I love the art work! The stamps, many of the sayings, and the background papers would work wonderfully in many settings. Even the page templates would work well for other themes. Since the templates are totally customizable, you can change out the wording and put in what works for your theme and photos. To order the kit, just click on the link to be taken to my online store.
Thanks for coming to visit. Please enjoy a virtual cup of coffee or tea with me while you browse my blog.
Until next time…blessings,
Sue
sue@soggystamper.com