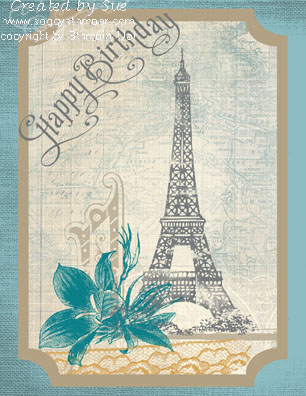 Supplies: MDS2+ (130646), MDS2 (130644), MDS2 upgrade (130650), or 30-day FREE trial of MDS2 (130910); Perfectly Penned stamp brush set (130167); Textured stamp brush set (comes with the software for MDS2), Fan Fair Designer Series Paper (127200); Get It Done Punch 1 from the Get It Done Kit (129924)
Welcome to My Digital Craft Corner today! I love the Fan Fair Designer Series Paper in the traditional form and am delighted that it is also available digitally. I also love adding designer series papers to punches. I think this punch from the Get It Done Kit is the perfect punch for this particular dsp and, of course, I love layering punches to make frames around the image.
Today is my downline's birthday and like the excellent procrastinator I am, I didn't get a card stamped and mailed to her. MDS2 to the rescue!!!! I created this card and emailed it to her so she would get it on her special day. With MDS2, we don't need to use the commercial e-card companies and our friends and relatives can be sure that a virus isn't accompanying the card.
Have you tried MDS2 yet? Why not? Stampin' Up! offers a 30-day free trial and I am here to help you get started. So go click this link now to sign up for the free trial. You have nothing to lose.
Until next time…blessings,
Sue
sue@soggystamper.com
                                           Get It Done Digital Kit