Stampin' Up! is trying something new! Between now and Jan 2, they are running a pilot program of offering single stamps from three selected greeting stamp sets: Word Play, Perfectly Penned, and Seasonal Sayings. Here are some details of this program:
These stamps are available on any order type-customer, workshop, or online. 
You can find the stamp item numbers on the flyers.
These won't be sent to you in our typical cases or packaging; they'll be packaged in cello bags. If you'd like a case for your stamp, you can buy our Clear-Mount Stamp Cases that come in packs of four (item 119105).
This offer is available for clear-mount stamps only.
The stamps won't come with a Clear-Mount Block, and you'll need to buy a block separately if you don't already have one. The recommended block sizes can be found on the flyers. 
There's no limit on how many pieces you can buy.
Remember that this is a pilot program, so take advantage of it while you can!
Click on these links to see the flyers for each of the stamp sets:
 Perfectly Penned Download SSF_Perfectly_Penned-2
 Seasonal Sayings Download SSF_Seasonal_Sayings-1
 Word Play Download SSF_Word_Play
I also want to remind you that there is only one week left to take advantage of the October special. Purchase the Ornament Keepsakes stamp set and the Candlelight Christmas Specialty Designer Series Paper and you will get a FREE Festive Paper-Piercing Pack. Ordering the Ornament Keepsakes Bundle and the Christmas Specialty paper is also included in this promotion. By ordinging the bundle, you have all you need to make beautiful ornaments and images to stamp on your cards. When you place an order for the special, I will send you a tutorial on how to make the ornament on the front of the Holiday catalog and two card samples using the Ornament Keepsakes stamps. Click on the photo to see the options and place your order.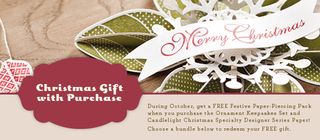 Blessings and Happy Holiday Stamping,
Sue Erickson
sue@soggystamper.com