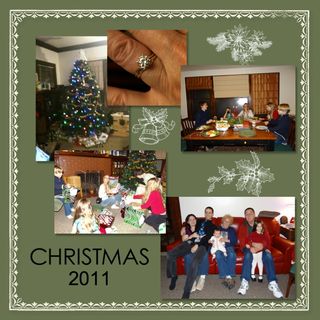 Supplies: MDS2+ (130646), MDS2 (130644), MDS2 upgrade (130650), or 30-day FREE trial of MDS2 (130910); Vintage Overlay stamp brush set (121061), Calendar Basics Stamp Brush Set (118120), Bells and Boughs stamp brush set from Deck the Halls Photocard Designer Template (122176).
I love going to Seattle to spend Christmas with our daughters. Last Christmas we were blessed to even get to spend time with our Spokane great-grandkids and their parents. Our Orting, WA, grandson and his family also came over to Tacoma for a visit. There is nothing better than family gathering around the Christmas tree or the Christmas dinner table. It makes the expense of flying down there well worth it.
I framed this scrapbook page with the tulip frame in the Vintage Overlay stamp brush set. I added a few accents from the Bells and Boughs stamp brush set, one of my very favorite sets.
Thanks for coming to visit today. I am traveling this weekend and am not sure I will have internet access to do a Terrific Tuesday post tomorrow with links to the new MDS2 digital downloads but will try to get that posted on Wednesday.
Until next time…blessings,
Sue Erickson
sue@soggystamper.com